Michael Webb 300 Creative Dates Book Review – Is it worth it?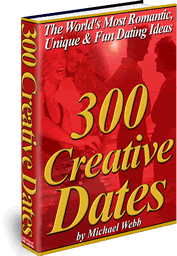 Making a great first impression is everything on the first few dates. I was excited about finding new and creative ways of being fun and romantic, ones that were truly sentimental, as opposed to being cheesy. And I did find a handful of good ideas that are heartfelt yet don't cost a lot of money.
Does Michael Webb's 300 Creative Dates book deliver on its promise as having creative, unique and fun dates?
Yes and no. When I first opened up this 117 page ebook, I was overwhelmed with the 300 ideas. Here's the little dirty secret; not all of the 300 creative date ideas are written by Michael Webb himself.
I would say that almost half of the ideas are contributed by various authors and it is like reading the dating version for "Chicken Soup For The Soul". While many of the ideas are very creative, others are merely date idea refreshers. Thankfully there are 76 different ideas that I thought would be great to do and I have bookmarked them.
300 Creative Dates Content Page
Many of the date ideas fit in multiple categories, but Michael Webb have arranged some basic
categories in case you are looking for a quick idea.
Tips for Successful Dating – page 5
Creative Dates – page 7
Unique TV/Movie Dates – page 46
Different Dinner Dates – page 50
Vacation Dates – page 59
Picnic Dates – page 67
Game Dates – page 73
Craft Dates – page 79
Sports/Outdoors Dates – page 84
Long Distance Dates – page 88
Asking Someone Out – page 95
Dating Disasters – page 99
Date Coupons – page 109
I find that "Long Distance Dates" on page 88 are particularly useful for online dating scene. One of the ideas include how to keep the the long distance sparks flowing by using videos on page 89.
Also, the book has an entertaining section on dating disaster stories that will definitely show the guys what NEVER to do on dates. It was so funny reading and I laughed so hard that I drop off from my computer chair.
So is the book perfect?
This book is a pretty good one for those who don't normally think about romance all that often but really want to become a romantic person. While there are 300 ideas, you really can't read more than 50-60 in one sitting before it gets tedious, and some descriptions are a little lengthy.
However, pages 93-94 do have a nice list of bullets with 'quick and to the point' date ideas ready. No elaboration. If you're in the need of a date idea fast, then you'll love these pages.
All in all, this is a fantastic dating ideas ebook!
Whether you want to impress that special someone on a first date, surprise your partner for a special occasion, or just want to breathe new life into your stale relationship then grab this book now.
For more details, click below to check out:
Click here for instant access to "300 Creative Dates" by Michael Webb