ChnLove.com review
Chnlove.com is a web portal that consists of Chinese local marriage agencies in China. ChnLove models after the traditional concept of Chinese mail order bride.

Are you suitable for ChnLove.com?
For those who wants to find serious and sincere Chinese marriage partners instantly, ChnLove.com is just for you.
Click here to explore ChnLove.com 


All women's profiles are verified by 17 local marriage agencies
in 13 major cities of China so that is an assurance that the
profile you are looking are not bogus. Constant regular checks
on women profiles are conducted by local marriage agencies to
ensure that they are still available. Up till now there is
around 4086 verified women's profile in the database.


Special: When your admirers send you emails
Don't be Surprised when you got Mail !...from you admirer

This is what you get in your Chnlove Profile when there is an admirer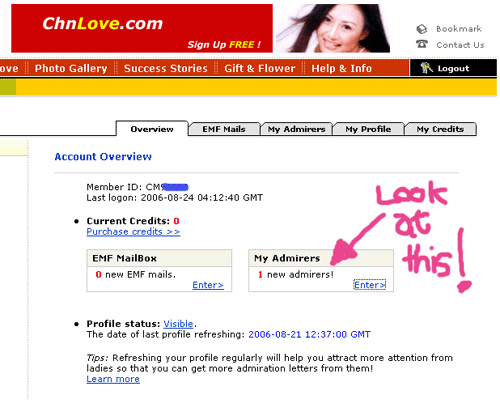 You Got Mail from Chinese Admirers !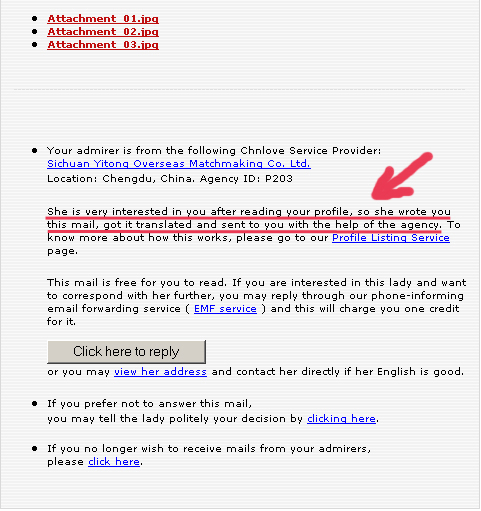 You can send fresh flowers directly to your potential partner with a small fee attached. Ample Advice is also given to help you when you are planning a visit to meet your potential partner in person. Help is also readily available to help your asia bride to immigrate to your country.
What type of Relationships?
ChnLove is suitable for those searching for serious marriage, romance and long term relationship.

 
Fast and easy just by answering basic questions about yourself and your profile will be activated with immediate effect. From the word 'GO', you can start searching for interesting members that catches your eye. You can also start to receive messages from members instantly.


ChnLove.com provide a simple and fuss free layout.
6 different types of search features

you can use advance search unlike some other dating services
which make you pay for this feature. Although location is fixed
at China, you can determine the provinces and major cities of your matches
A map of China is attached for your easy reference! Hongkong, Macau and Taiwan are also included in the advanced search.

Quick search or search by member's user id

Newly Posted
(

New !!

Now you can now view profiles with videos of Chinese members, make sure you have windows media player installed with IE browser)

The Truth
But to tell you the honest truth, there are total of only three pages of Chinese ladies with video profiles. The quality of some of the videos and the background noise makes the viewing of the videos less enjoyable. To make it more disappointing, the Chinese ladies ages span from 22 years old (only one at press time) to 46 years old. The majority are in the upper range of 30 years old.

However there is one great advantage of viewing videos of ChnLove.com Chinese ladies and the reason is you can tell their real appearance apart from their make over photos. To drop another bombshell, some may look great in the photos but when they appear in their video, let's just say it's a totally different person altogether.

Lastest updates

My Matches

My Favorites

What functions does it have for Flirting Online?
Not applicable as communications are done through email correspondence.
EMF (Phone informing Email Forwarding) service---How it works
Communications to your partner is by means of email, which ChnLove.com
called EMF (Phone informing Email Forwarding) service. This seems
to be a very primitive method in order to overcome language barrier.


This is how it works: you send a email to your prospective partner
declaring your intentions and Chnlove will translate and print your
email for your prospective partner to read. Likewise,letters from your prospective partner will also be translated into your preferred language.
As the saying goes "Love transcends everything", language barrier
will not be a problem anymore.


Once you created a profile, ChnLove.com will list your profile in the
local introduction agencies around China and if there are ladies
interested in you, you will receive admiration letters from them.
However there's a catch , you can only read the first email Free of
charge.
create your own lists of matching members using filtering. Your Matching criteria includes age, have children, Education level, martial status and the list goes on.
ChnLove.com is basically in English

How much does it cost you?
Purchase credits in order to correspond letters to your prospective partner,
which will allow you to view their contact info, contact them directly or
using the EMF service. Credits cost between $4.25 and $6.25 depending on quantity purchased.
Click here to gain Instant Free Access to
ChnLove.com