AsianDating.com review
AsianDating.com is one of the largest and popular Asian dating sites.The main theme for this dating service appeals to people that are finding Asian ladies seeking for marriage or looking for asian partners for friendship.

Most of the members originate from all over Asia and there are some from the asian community in the USA, UK, Canada, Australia. But frankly speaking, most of members found in asian are from Philippines and they are the most active asian singles seeking marriage partners. Surprisingly there are success stories from people who met on Asian Euro and found true love. Click here to see some of the most recent marriages.

Click here to explore AsianDating.com



Free members can use this services:
post your own photo profile
browse other photo profiles
read message boards
search database
view photo gallery

Video Recorder that lets you add a video or voice greeting to your profile to really stand out from the crowd. this will definitely leave a lasting impressions to your prospective partner!
Ooh you can view thirty second video clips of members that put up their video in the video gallery! It's really neat as you can listen to their voice and the video are stream online so that there is no video lag.

Example of a member's video :
Click on the picture above to see actual
videos of members of AsianDating.com
What type of Relationships?
AsianDating.com is suitable for you if you are searching for flirting / dating / romance. Who has the time for pen-pal nowadays?

Quick and easy 3 steps of signing up
1) create a profile for free
2) search for free
3) subscribe to chat and meet
However, in order to have an advanced search capabilities, you have to join as a gold or platinum member. In any other way it's good to try it out to have a feel of the dating web site.

AsianDating.com has easy to use navigation features.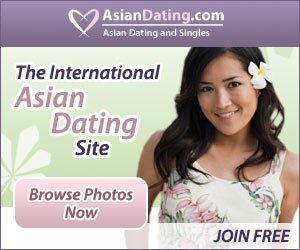 Advanced Searching
Advanced searching to let you find the exact type of person you are
looking for. A very precision search criteria right down to determine whether
you are a smoker or drinker. Extra features such as filtering and sorting profiles accordingly to newest members, members with photos or latest recent login.

For searching 'who's online', some of the profiles are suspiciously
recycled meaning you will be keep seeing some of the profiles repeating.
What functions does it have for Flirting Online?
Send 'Virtual Kiss' or 'Virtual Smack'
What's really fun is you can send a Virtual 'KISS' to someone you like or a
Virtual 'SMACK' if the other party get a bit too personal so be warn use
them with care! You can also sent a "Show Interest" to the other party.
Email / Instant messaging /Chat room
Advanced Instant messaging system allows for video, voice or text. What's really advantageous to those who don't have a webcam or microphone is that you can hear or view the other party if they chose to open their webcam or microphone!

For Free account you can send mail to the other party which is good
however if both party are Free members, one of you must upgrade in order for the other party to read your mail, however this does not apply to Instant Messaging.
create your own lists of matching members and see who's interested in you and manage your contacts easily.
Other different languages includes Dutch, Finnish, French and German.

How much does it cost you?
29.99 Gold Members have unlimited contacts during membership for a one time monthly fee unlike some other sites that will charge a fee per
email address.

Other tried and tested Asian Online Dating services
Asian FriendFinder.com
Click here to read emails from admirers in Asian FriendFinder.com
FilipinaHeart.com
Click here to read how I was pursued by desperate Filipina in FilipinaHeart.com
Filipino FriendFinder.com
Click here to view private members' video on Filipino FriendFinder.com
ChnLove.com
Discover how you can find demure and sincere Chinese marriage partners instantly in ChnLove.com
ThaiLoveLinks.com
Click here to view sensual and spicy Thai members' videos in ThaiLoveLinks.com