"Thank you so much for making dreams come true"
Like most men i was a little bit sceptical about using these sites,but sometimes you have to take a risk,so i did,and have never looked back,although i was'nt a member for very long it has all come true for us.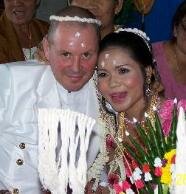 We started e-mailing and sending pictures to each other and after a few months i travelled to thailand 2004. I was only there for 3 weeks but at the end we both felt the same about each otherand decided to get engaged,i was so relieved her parents accepted me and gave their consent.
we have kept in touch with letters,
phone and sms and i have been back
to visit several times
on october 2006 we got married,it was beautiful ceremony at her home and are now waiting for her visa hopefully there will be no problems with it and it wo'nt take too long.
thanks for all that you have done in making it happen, would highly recommend this site to everyone

yours sincerely
a very satisified customer
-John