In this instalment, we will explore the favorite part of any Asian online dating services – photo gallery. ChnLove.com photo gallery is truly refreshing as it updates regularly on every tuesday and friday like a clockwork.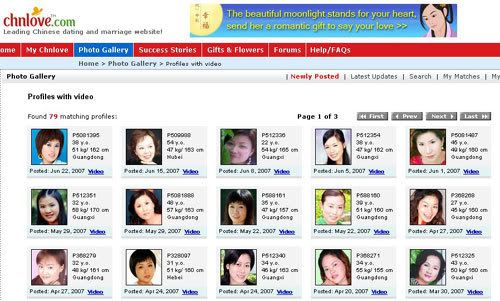 There are basically five main components that make up ChnLove photo gallery.
Newly Posted
Latest Updates
Search
My Matches
My Favorites
Newly Posted
In the newly posted segment, Chinese ladies' profiles are updated twice a week on tuesday and friday so you will be seeing fresh faces every now and then.
Latest Updates
In the 'Latest updates' segment, Chinese ladies' profiles would be verified and updated on periodical basis by the local marriage agencies based in China.
This is also particularly useful in determining the authencity of Chinese ladies profiles. If there are any changes in a lady's profile, such as her contact information, photos or other personal information, the local marriage agencies will update accordingly. There is also a referring date to check the Chinese ladies' availability.
However there is a slight hitch, you cannot filter profiles of members in either 'Latest update' or 'Newly Posted' segments which may seems like a bit of inconvenience. You have to scroll the photo gallery page by page.
Video Profiles of Chinese ladies
It is good to see ChnLove.com trying to keep up with the times. In the past, there are not much to explore in ChnLove.com but recently ChnLove.com has introduced video profiles which will definitely add sparks of excitement.
But just a word of caution, in order to view the Chinese ladies video profiles, your pc has to be installed with Windows media player, Windows Xp or Windows 2000 and you must use IE browser.
Click here to view ChnLove.com members videos
The Truth
But to tell you the honest truth, there are total of only three pages of Chinese ladies with video profiles. The quality of some of the videos and the background noise makes the viewing of the videos less enjoyable. To make it more disappointing, the Chinese ladies ages span from 22 years old (only one at press time) to 46 years old. The majority are in the upper range of 30 years old.
However there is one great advantage of viewing videos of ChnLove.com Chinese ladies and the reason is you can tell their real appearance apart from their make over photos. To drop another bombshell, some may look great in the photos but when they appear in their video, let's just say it's a totally different person altogether.

Click here if you interested to view ChnLove.com members videos
Click here to read Chinese Love marriage ChnLove.com Review Part 1