In this JapanCupid review, you will learn how to use the 'flirt online' features in JapanCupid.com to search for Japanese cuties girls. At the bottom of your member control panel, you can see "Recommended Matches" where all the Japanese girls that are compatible to your interests are already selected for you by JapanCupid.
JapanCupid Show Interest Button
If the Japanese girl catches your eye and you are eager to know her, you can easily let her know that you are interested in her by clicking the "Show Interest" button.
There are two ways to show your interest to another member.
you can hover your mouse over the Japanese girl member profile in your "Recommended Matches" and some symbols will pop up. Click on the "love" sign which is the "Show Interest" button
another way is to click on the Japanese member profile, and you can see a green "Show Interest" button in her profile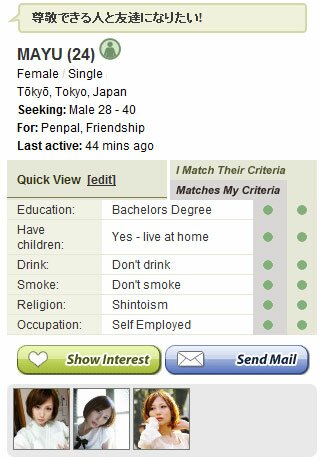 After clicking the "Show Interest" button, you will see something like this:

By clicking the "Show Interest" button, the opposite party will know that you are interested in her, and the rest is up to both of you. You can follow up by sending her a message or an email to show that you are really interested in her.
Upgrading to paying premium member include many benefits and advantages such as
sending unlimited messages to free and paying members
receive mail from free and paying members
communicate by email, instant messaging or chat
However you will be surprised by Japanese girls initiative, some of them are not as reserved as you thought them to be. In Japanese culture, subtlety and politeness are very important when communicating with one another.
Sign up for a free membership and get connected to thousands of single japanese ladies. Click picture below to see real kawaii Japanese girls.