ThaiLoveLines is a hybrid Thai online dating cum social networking site. There are thousands of young Thai girls looking for relationships, marriage or simply friendship from around the world. ThaiLoveLines also offer instant Thai chat, Skype internet calls, an E mail centre and an innovative match service where you meet Thai singles daily.
In the last ThaiLoveLine Review 7, you were shown steps on how to be popular among Thai ladies in ThaiLoveLines.com. In this review, you will learn how to increase your chances of ThaiLoveLines ladies knocking at your door.
How to add ThaiLoveLines members as your favorite
Now you can efficently manage your own online dating network of young Thailand women friends with "Favorites" list. Favorites is simply a list of member profiles that have caught your attention.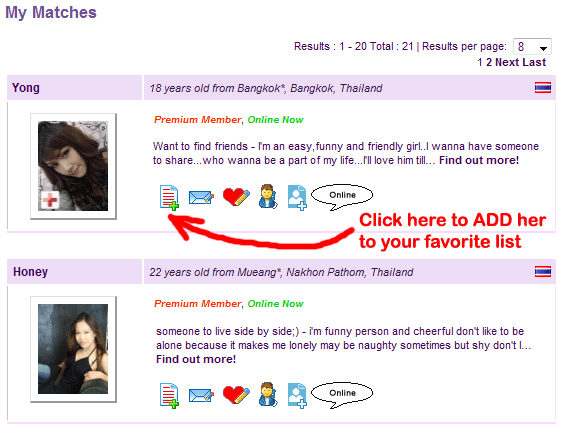 It is also a powerful way to express interest in another members as each time you select a member as your "favorite", a notification will be sent to that member from you.
How to use ThaiLoveLines Favorite list as a powerful dating tool
You should aim to develop your ThaiLoveLines favorite list of at least 100 members or prospects whom you would like to get to know better.  It is an extremely useful communication tool as it allow you to be instantly show up on their "radar screen".
Many ThaiLoveLines members who have been successful in their online dating revealed using "Favorites"  as a key feature in helping them to find someone special or simply a new set of friends. This is now available to Standard membership.
Click the Add to favorites button to make an addition to your favorites list.
In you favorite list you can also view your match selections through "Meet your Match" and who has rated you
You can also view a list of other members who have also added your profile to their favorite lists
Your interest will be shown in a special favorites e-mail being delivered into the member's Inbox as well as to their e-mail with a link to your photo and profile
Your favorites list will show the other members nationality flag and a flashing icon when they are online so that you can chat or connect with them instantly if you are a Standard member
Click below to explore ThaiLoveLines and create you own Thailand girls social network –>


Click picture above to find Thai women in established and highly reliable ThaiLoveLink