In this JapanCupid.com review, you will learn how to maximize the features of JapanCupid.com to help you search your ideal Japanese girl. You will also discover that you can track Japanese women members' recent activity all in one place at the member control panel.
Most of Japanese women found in JapanCupid.com are professional singles living in Tokyo, Nara, Nagoya, Osaka, Kanagawa, Kagoshima, Saitama, Japan. These JapanCupid members are looking for  penpal, friendship, romance dating or even marriage. You can even find young Japanese university students seeking to make friends from around the world.
JapanCupid Recommended Matches
At the bottom of the member control panel, you are able to see JapanCupid's recommended matches complete with photos and information.

Remember that when you first sign up for JapanCupid in step #3, you are encouraged to provide basic details about the dating partner you are looking for. If you have not done so, go to your member control panel and select your Japanese dating partner criteria. Now you are able to scan all Japanese girls that are within your liking all in one section.
JapanCupid Recent Activity
At the right side of the member control panel, you can know specifically which JapanCupid member has viewed and read your profile.  This is a real time feature where you can choose how to react online since someone has read about you. For example, you can send her a email message, chat with her online, or add her to your 'favorites' or send her an "Show interest".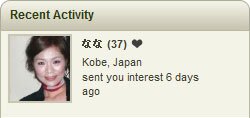 To find your perfect Japanese girl match, use JapanCupid advanced search feature to narrow down your searches by selecting the partner you want based on age, appearance, religion, location, personality, lifestyle, ethnicity, nationality, Chinese sign and so on. You can also save your searches and review them later. Members can use Japancupid.com either in English, Japanese, French, German or Korean languages.
All members are free to initiate communication and receive replies from premium members. You can show interest by using the 'show interest' button and start talking to a member whose profile interests you.
Click picture below to meet or interact with Japanese women for Japanese dating. Join 100% free and chat with real Japanese ladies.