If you are interested in dating Korean girls or looking for cute Korean guys, KoreanCupid.com maybe the place for you. Korean Cupid has a large database of Korean singles and personals living in Korea. Let us look at Korean Cupid in a more detailed level.
Signing Up in Korean Cupid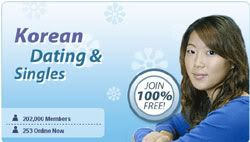 As usual, most of online Asian dating sites provide free registration. Korean Cupid has a easy three step registration process.
STEP 1 – Membership Registration
STEP 2 – Questions About Yourself
STEP 1 – Questions On Your Ideal Match
KoreanCupid Registration Step #1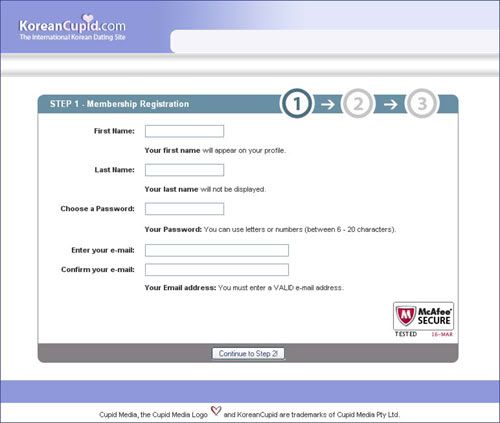 You should enter a valid email as you need it to activate your KoreanCupid membership account. There is no nickname or handle to choose from as each KoreanCupid member is known by their membership number.
KoreanCupid Registration Step #2
In step #2, you are going to enter your personal bio data. You must complete every single selection. This is rather time consuming and some of the selection really get on your nerve. Is my Chinese star sign really that important? Some of the selections should be deferred after the registration process to be done at your own pace.
KoreanCupid Registration Step #3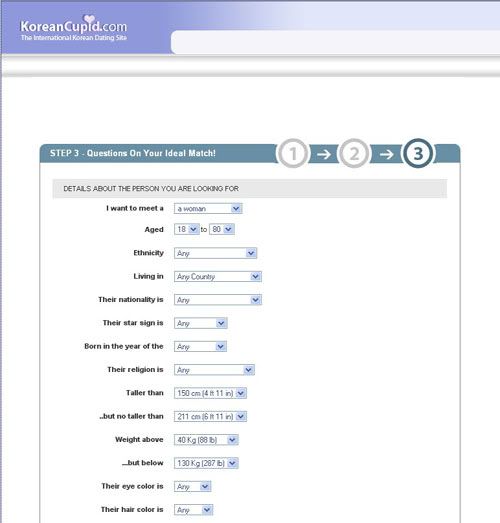 In step 3, there are some important points you need to take care of in order to maximize your chances of finding someone.
Choose a heading for your profile
You need to select a catchy and original heading for best results. It is good to ask a question like: "Are you a fixture or a variable?"
Describe yourself
It is very important that your profile contains a detailed self description so that other people can find out all about you.Consider the following in your self description:

Describe your physical appearance
Describe your personality, hobbies and interests and how you enjoy to spend your time
Talk about other things if they are important to you…maybe your job, your family, your religion, where you live, your education, your pet, your plans for your life

Describe who you are looking for
You are asked to complete some questions about your ideal partner. By completing this step, you can check the compatibility rating of other members and get automatic notifications of members meeting your specific requirements.
By having a detailed description of the type of partner that you are looking for, you will maximize the chances of people that you are interested in contacting you.
If you do not have time to complete this now, you can always leave the default settings.
Now that you have completed, let's see some of KoreanCupid women members.




Most of Korean girls come from Korea and they are eager to make new friends around the world. Some of them are trying KoreanCupid with an open mind, while others are looking for their Mr Right or soulmate. Get yourself started to the way of traditional Korean culture.
Click here to join KoreanCupid for FREE
Click here to read –> KoreanCupid.com Review Part 2 (Member's control panel in KoreanCupid.com)
Click here to read –> KoreanCupid.com Review Part 3 (How to flirt in KoreanCupid.com)