In this JapanCupid review, you will learn how to utilize one of the popular searches inside JapanCupid and Instant messaging. Also you will discover the secret to chat for FREE with Japanese women members.
Watch Japanese girls in video gallery
Now you watch Japanese girls webcam video in the comfort of your home. You can view all JapanCupid members' webcam videos in your member control panel, under the panel –' Popular Searches' — 'Video Gallery'. Remember to select the option 'From — Japan' to show all Japanese cutie girls and mature Japanese working ladies webcam videos.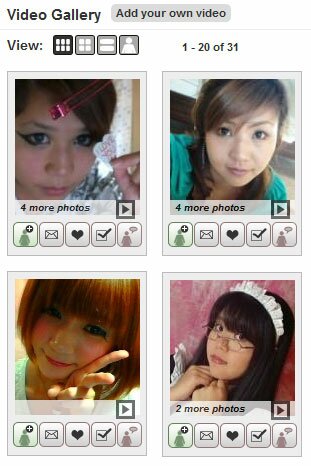 The purpose of the video gallery is to allow JapanCupid members to record their video introductions so as to further enhance and stand out from the crowd. Now you can hear and see these Japanese women members in action and see them saying hello to you.
Some of these Japanese girls are quite shy and only a handful few dare to make video introductions. However in order to view these Japanese girls videos, you have to upgrade your membership to a Standard or Gold member.
JapanCupid Instant messenger
JapanCupid Instant Messenger feature allows Platinum and Gold members to chat one-to-one with other online members. Instant messenger is only available to paying members such as Platinum members. If you are a standard member, you can chat and communicate FREE with Platinum members only. Platinum members are able to use their webcam and microphone in the Instant Messenger.
Browse real kawaii Japanese girls profiles. You can click picture below to join 100% free and chat with Japanese ladies online.