ThaiLoveLinks.com is highly popular among Thai women and Thai ladies. You can find REAL Thailand women looking to build long term relationships with people around the world in ThaiLoveLinks.com.
Signing up in ThaiLoveLinks.com
Let's take a look at the registration process. At the ThaiLoveLinks.com, the registration process for a free membership take only 3 steps:
Step 1:
Registration of ThaiLoveLinks.com membership in step 1 is easy. Just provide your valid email address and enter your basic details. Remember you have to provide a valid email address as ThaiLoveLinks.com will prompt you to go to your email to confirm your ThaiLoveLinks.com membership.
Step 2:
In step 2 of ThaiLoveLinks.com registration, you are required to answer all the questions about yourself. You will not be allowed to proceed to Step 3 if you skipped some of the questions.
It is somewhat a time consuming step. However you must pay great attention to the part that says
Choose a heading for your profile:
Describe yourself:
Describe who you're looking for:
Writing a catchy headline profile will definitely boost your prescene in ThaiLoveLinks.com. Therefore put a great deal of thought into it.
Describe yourself description: It is best to give an interesting description of yourself in order to maximize your responses. Spare others of your boring mundane routines.
Don't mention your lame hobbies and such.
Write something more interesting like your aspirations, dream.
Ideas like what are your exciting plans for your life?
Describe yourself in a positive emotional tone – energetic, passionate etc
Describe your partner:
By having a detailed description of the type of partner that you are looking for, you will maximize the chances of people that you are interested in contacting you.
Don't talk about their physical appearance, it will make you look shallow
Focus on describing characteristics that are important to you
talk about the type of personality, hobbies and interests or personal traits that will greatly interest you.
Hang on to it, you are almost done.
Step 3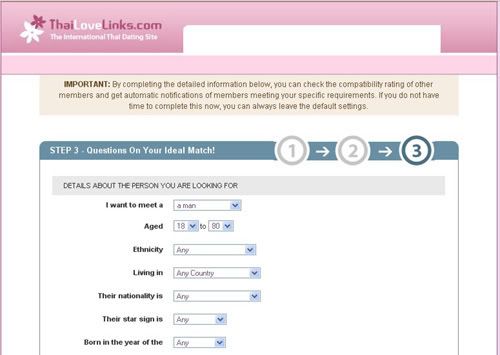 In the last  step 3 you are ask to describe your ideal match. In a hurry? just leave the settings in default as you can edit them later in your ThaiLoveLinks.com member profile.  Finally you are done! Hit the submit button and you are on your way to a fun and exciting Thai online dating experience. Enjoy!
In the next instalment, we will look ThaiLoveLinks.com in greater details and find out what are the cool things that can help you to make your Thai online dating fun and pleasurable.
Click here to read –> ThaiLoveLinks.com Review Part 2