In this series, we will look into ChnLove.com
What is ChnLove.com?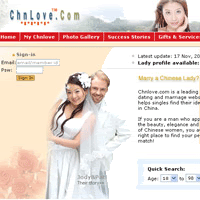 ChnLove.com is a Chinese matchmaking dating site dedicated to help people find a Chinese woman as a marriage partner. This is not for the faint hearted and restricted for those who are serious in marriage.
Anyway it is interesting to find out how this mail order Asian bride marriage site works.
First and foremost, ChnLove has openly declared that their Chinese women profiles are real and available.
How can we be sure?
Chnlove has built the strict policies and procedures to ensure the authenticity of the Chinese lady's profile submited by its 17 Chinese marriage service providers. Constant regular checks on women profiles are conducted by ChnLove.com to ensure that the Chinese ladies listed are still available. Up to now there are 5309 Chinese ladies' profiles carefully selected and verified.
Enough of this serious stuff, let's look at the goodies
Signing up as a Free member

Signing is simply easy. Only one single step. This is unlike various Asian online dating services which make you go through long and tedious signing up process.
In the next instalment, we will look at the 'juicy' stuff rather than the boring stuff. stay tuned.
Click here to read Chinese Love marriage ChnLove.com Review Part 2