Recently I have discovered a makeover at Asia FriendFinder.com here is the old Asia FriendFinder and the new makeover.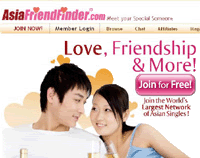 Here is a mini review about Asia FriendFinder.com in case you are not familiar.

Asia FriendFinder is a branch of the hugely popular Friend Finder network of online dating sites.
As of right now there are 7,435,065 Active Members up from 4,122,516 in 2005 and increasing.
Asia FriendFinder.com is suitable for you if you are searching for friendship or dating partners. There are online flirting features which you can utilise and instant messaging service which is Free even though you have a FREE member account.
What is new about Asia FriendFinder.com?
There is an influx of Chinese women posting their profiles in Asia FriendFinder.com. You will be amazed by the scope of Chinese women profiles in Asia FriendFinder.com. It looks like a mini China.






Asia FriendFinder Chinese members come as far as Hubei, Liaoning, Hunan, Fujian, Tianjin, Zhejiang with most of them coming from Guangdong, Shanghai and Beijing.
Click here to make friends with them in Asia FriendFinder.com