In this Match.com review, we will show you what is the secret in getting your prospective matches to click instantly with you. It's a bit sneaky.
We assume that you have sign up as a Free member with Match.com if you have not please sign up as you will not be able to keep up with the process here.
Click here to sign up with Match.com as a FREE member
Where do you start?
When you sign up as a FREE member, you are also prompt to key in a set of keywords that matches your personality. The secret in attracting prospective matches is by using matchwords™.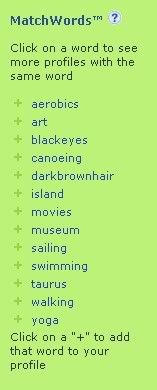 What is matchwords™ ?
You are advised to key in some words that describe your personality, your desires or hobbies.
Here's the SECRET
If you are interested in a particular match, here's the secret, go to the particular match that you are interested and see the matchwords beside their profile.
Click on the "+" to add the matchwords to your profile.
What does all this means?
The simple act of adding the matchwords to your profile will have a dramatic effect on the way prospective partners look at you.
For example, a particular match you desire has matchwords of sailing, swimming and you have added the same matchwords. Therefore when a prospective match finds or look at your profile, they will be instantly endeared to you since both of you shared common interests. This greatly boost your chances and score highly in their hearts.