Although Thailand culture is probably the best in Asia, there are many differences between Thai culture and western culture. Before you fall into the trap of looking through rose-colored glasses or having stereotypes, learn a few things about Thai woman.
If you are searching to date a proper (an educated, conservative Thailand woman whom you can have a real relationship with–not one-night stands or Thai bargirls), here are some advice about dating a Thai woman before you go around crash and burn.

Thai women misconception #1
Thai girls are easy to get into bed
Some foreign men (otherwise known as "White Farangs" to Thailand girls) think most of Thailand women are easy prey. In the eyes of Thailand women, a white farang is perceived as having more money/income status is higher. However not all Thailand women are the same.
Thai women misconception #2
Thai girls are gold diggers
You have to differentiate and filter off the gold diggers (eg Thai bargirls)  from the real Thailand woman. Most Thai girls would prefer a guy that seriously love her to an unfaithful guy with loads of cash.
Tips on dating a Thai women
Here are some off-limits you should know when you are dating a Thai woman.
Do not ask her to bed after your first date.
Do not hold her hands in public. Thai girls feel embarassed by show of affection in public. It might be acceptable to westernised Thai women from big city eg Bangkok, but Thai women from rural tend to be more tradional.
Save your sweet smooth talking or she will think you are a "butterfly" (playboy)
Do not visit her parents' home if you do not want to commit into a serious relationship, because meeting her family signify you are ready to be accepted by her parents which is the first step to getting married in Thailand.
Unlike western women, Thailand women will be thinking about getting married one day when you are her boyfriend. Furthermore if she sleeps with you, she will be certainly thinking about getting married with you one day.
Here are some online Thai dating services where you can chat and webcam with real Thailand women. Click pictures below to join for free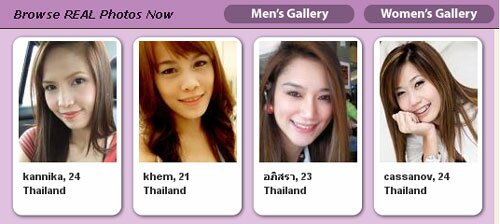 Using social network to chat with Thai girls online, you can join ThaiLoveLines for FREE below