Do you know how to be popular among Thai ladies in ThaiLoveLines.com? The method is very easy and simple. It is easy because in ThaiLoveLines, many Thai girls and mature Thai women are very open-minded about finding new foreign friends and dating online. It is like throwing a bait into a barrel of hungry fishes. Below are some steps that you must do.
3 easy steps to attract Thai ladies in ThaiLoveLines
Now if you really want to make some new Thai friends, you do not need to pursue. Let them come to you, in other words, you attract.
Step #1: you have to put in effort to write a candid but compelling description of yourself
Share with others what your dreams or goals you wanted in your life. This will allow others to have a little glimpse of your inner world. Write a bit about what you do for a living with a dosage of candor. No, please do not describe those boring mundane stuff, try to be less serious and poke fun at yourself. Women especially Thai women find men who are witty and humorous rather attractive.
Step #2: Photos speak a thousand words
Do not be afraid to upload pictures of yourself. Hiding behind an online dating profile without a photo just reflect to others that you have something to hide and you are not serious about making new friends.
Your first impression on the internet dating is all about pictures and photographs. Do not just upload any photos of yourself. Groom yourself before taking a head shot photograph. How the Thai ladies make a snap judgement of you depend on how well you present yourself in your photos.
Step #3: login in regularly
And then you wait patiently.
Check in your email and you will be getting Thai ladies adding you to their favorite's list of friends.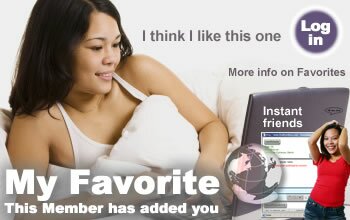 This means that she obviously likes you from your profile. The adding of your profile to her favorite friends' list could mean that this member is quite interested in getting to know you better.
The favorites feature allows members on ThaiLoveLine to select a certain number of members into a list from which deeper relationships may be developed. My Favorites is also sometimes called a Hotlist of potential friends and relationships on ThaiLoveLine. You might want to consider some of the following responses:
Flirts: Send an expression of interest by sending a flirt which is a Standard messaging service available to all members
Social Network invitation: Invite her to be a member of your own social network. See if she accepts
Chat Live on IM : Logon and see if she is available for a chat. If not, it may be possible to leave a message that you would like to chat
Send an e-mail message: This is a Premium membership facility but very effective in opening up lines of communication
Make a Date : Set a time and date for an online chat using IM or Skype.
Skype : Check out her profile and see if there is a Skype account (you need to be a Premium Member to see this). Then send a Skype message or chat on Skype if this member is online
Click below to explore ThaiLoveLines and create you own Thailand girls social network –>