In this segment of ThaiLoveLinks.com review, we will look at how to "flirt" around in ThaiLoveLinks.com If you have sign up as a FREE member of ThaiLoveLinks, you should be able to search for Real Thai ladies by using the standard or advanced search function.
You can sort out according to your preference for Thai women ages. A search for Thailand ladies between 18-25 years old
Every ThaiLoveLinks.com member profile has a "Shown Interest" button as shown above. After reading the thai lady's profile and if you are interested, you can click the "Shown Interest" button. The Thai lady will be notified of your interest in her.
This is only the first step. You have to write a good profile headline and description of yourself that can truly reflect your personality. You see when the thai lady is notified that you are interested in her, the first impression of you is only through your profile headline and description.
Write a headline and description that will mesmerised thai ladies and even get them to 'Show Interest'  back.
You can send as many 'Show Interest' as you like and the trick is to let prospective thai ladies know that you exist in the ThaiLoveLinks.com database.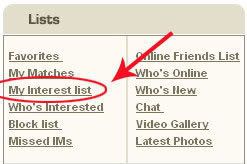 You can also keep track on how many thai ladies that you have shown interest. You can only send once to each ThaiLoveLinks.com member.
In the next ThaiLoveLinks.com review, REAL "shown interest" expressed by Thai ladies will be shown.

Click here to read –> ThaiLoveLinks.com Review Part 2
Click here to read –> ThaiLoveLinks.com Review Part 4