In this instalment, we will explore how to use the 'flirt online' features in KoreanCupid.com. When you are browsing at other members' profiles, you will notice there are 4 user features. Let's say that one of the Korean member caught your eye, you can just click on the "Show Interest" button or the little love symbol below their profile.
The opposite party will be notified of your desired interest in them. A message window will pop out to inform you that your interest has been sent to the KoreanCupid.com member.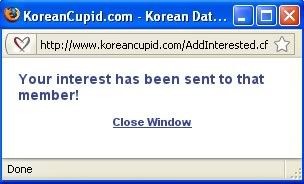 You can sent unlimited "Show Interest" to as many KoreanCupid members as possible. However your success rate depends on the other member's criteria and your ability to write an interesting online dating profile. Remember the first part of the review where you are ask to write a detailed description of yourself and choose a heading for your profile? Now it is put into good use.
Click here to join KoreanCupid for FREE
Click here to read –> KoreanCupid.com Review Part 1 (Signing up process in KoreanCupid.com)
Click here to read –> KoreanCupid.com Review Part 2 (Member's control panel in KoreanCupid.com)