Here are videos of Real Beautiful Chinese women in ChnLove.com with their membership ids and name. Find out how you can contact them by reading below.

Here's some eye candy with love from a China woman in ChnLove.com
Seriously, these Chinese ladies in ChnLove.com need some brushing up on their english. Here's the whole monologue if you can't get what she said.
"Hello I'm Lyndia… I'm a sun shining girl
I'm happy to see you in Xiyao
If you like me, please write a letter to me. thanks!"
How to write her a letter?
If you want to contact Chinese ladies in ChnLove.com, there there are both free and paid methods.
Free Methods
Cupid Note
You can also send her a Cupid Note for free and get to know how she feels about you.
Admiration Letter
List your profile in Chnlove service providers and let China ladies write to you first. Find out who's interested in you.
Purchase ChnLove Credits
Express-EMF Mail
Your can send her an online mail using the Express-EMF Mail Forwarding service. In this case, Chnlove service providers will call and invite her to pick up your mail at the office. free translation service will be provided for her if she encounters any difficulties reading or replying to your mail.
Address Request
Get the China lady's contact information and contact her privately.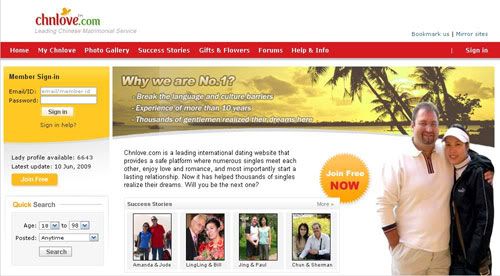 What is ChnLove.com?
Chnlove.com was founded in 1998, cooperating with local marriage agencies across major cities in China. ChnLove.com have helped thousands of western male singles realize their dreams. Almost 10 years' of efforts make them the largest and trusted service platform in this online dating/marriage service.