In this instalment, we will explore how to use the 'flirt online' features in FilipinaHeart.com. If you are a standard free member of filipinaheart.com, you should be able to search for filipina matches. For example, a search for filipina between 18 -25 years old.

As you can see above, every member profile has a function called 'Show Interest'. Just click on it if you are interested in knowing the opposite party.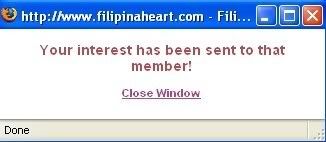 A message will pop out to inform you that your interest has been sent to the filipinaheart.com member. You can send as many 'Show Interest' as you like and the trick is to let prospective filipina partners know that you exist in the filipinaheart.com database.
Now if you have follow the advice of "5 Shrewd tips To Turbo Boost Your Online Chances", you will learnt that writing your online dating profile is of great importance. this is because when you have send a 'Show Interest' to a prospective filipina, the first thing that they will look is your online dating profile.
Their first impression of you hinges on your ability to reflect your personality in your online dating profile. If your online dating profile satisfies their criteria, this will lead them to initiate communication with you or even sent you a 'Show Interest'.
Now what's really cool is that you are able to keep track on how many 'Show Interest' you have shown just in case you are forgetful.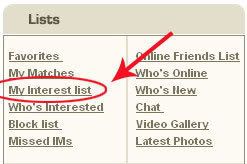 By going to your member control panel, under 'Lists' –> 'My Interest List' you will be able to see who you have shown an interest in.
Click here to Gain Instant Access to FilipinaHeart.com
In the next instalment, we will see real life examples of filipinaheart.com members expressing their interest.
Click here to read –> FilipinaHeart.com Review Part 2
Click here to read –> FilipinaHeart.com Review Part 4