In this instalment, you will discover how to connect with your filipino friends around the world. Filipino Friend Finder Instant Message Center (IMC)  provides a fun, cheap way to communicate with your filipina friends.
Since you're connecting via your local Internet Service Provider (ISP), you avoid long-distance charges while enjoying the high-tech fun of video, audio, and text even if you are a standard (Free) member.
How to connect Filipino Friends Instant Chat
Here's how you go about it:
Step #1:
Sign up and login into Filipino Friends Finder member's page

Step #2:
When you are in your member profile page, look for the column at your right top corner. Click the "Launch Instant Messenger" link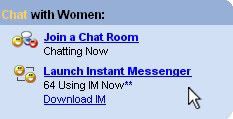 and it it will open up another browser window (see pictures below).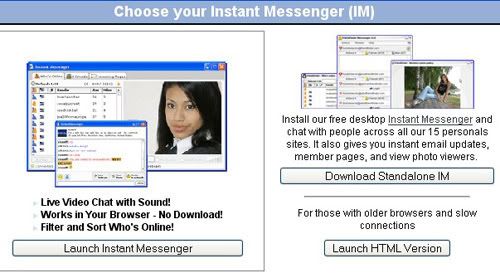 For a quick and easy way, it is recommended to choose the "Launch Instant Messenger" option  which works in your browser without any need for download. Wait a few seconds to load and you are in!
Below is an example of Filipino FriendsFinder.com instant chat window
Step #3:
Now here's some neat tips and tricks to maximize your instant chat experience.
Filter and Sort Who's Online
You can filter out according to female (pink) or  male (blue) filipino friends member
Filter out according to age
Instantly check out member's profile
If someone catches your attention, just click on their profile pictures to initiate chat
Filipino Friends Finder Instant Chat Demographic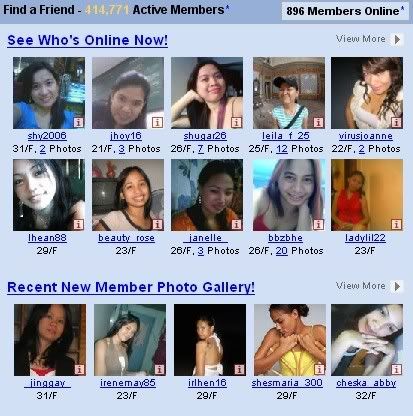 In the instant messaging chatroom, you can find a diverse group of  filipina women with ages ranging from 21 to 48 years old.
Most of the filipino women members in the chatroom come from quezon city, Makati, National Capital Region, cebu, Central Visayas  in the Philippines.
Some of the single filipino ladies are willing to chat for friendship and serious relationship while others may restrict chatting only with close friends.
Enjoy your chatting!

Click here to read FilipinoFriendsFinder.com.com review part 1